Albanian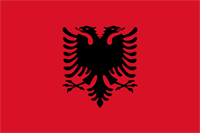 Home
»
Languages
»
Albanian
This page lets you in on the free online courses featuring the Albanian language. With Indo-European origins, Albanian is predominantly spoken in Albania, Greece, Kosovo and the Republic of Macedonia. Albanian speakers also in the Balkans and in century-old communities in Ukraine and Sicily, as well as in many parts of the globe where Albanian communities reside. Split into three dialects, the Albanian language has 7.4 million speakers. Learn to speak this historically rich language with courses offered for free online.
List of free online Albanian Courses
The website offers Albanian lessons that was delivered through Skype. Teachers within the site was really confident to say that their way of tutoring was effective, as it requires short period of time.

The Albanian alphabet and some phrases – a quick introduction to Albanian.
There are no subcategories for this category